Free shipping over 499 SEK / 55 EUR / 79 USD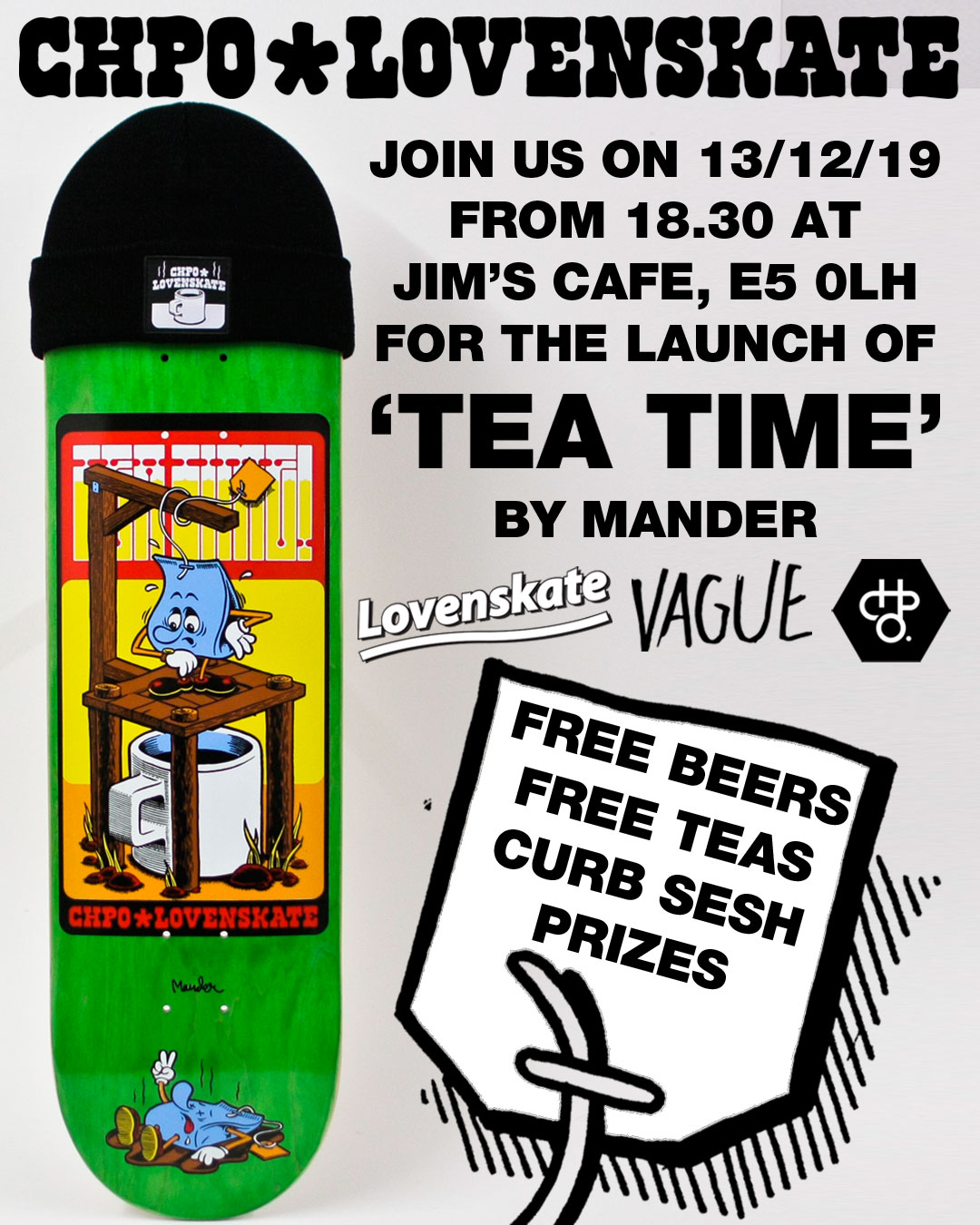 CHPO x Lovenskate
December 9, 2019
We're hyped to present our new collab launch and event with two of our favourites, Lovenskate and Mander. The new 'TEA TIME' collab will be launching Friday 13th December in London 6.30pm in the back room of Jim's Cafe. There will be a heavy curb session, free beer, free teas, prizes, sound as fuck people and a chance to win the collab beanie, board and sunglasses! Read some words below from Lovenskate's Stu Smith regarding the collab and event. See you there!
Words: Stu Smith from Lovenskate
"On the night, we will have 2 of these boards to give away as prizes. (all being well, we'll have a curb to skate too) Lovenskate and CHPO have produced a 'TEA TIME' board with artwork by Martin 'MANDER' Ander. Lovenskate and CHPO have been working together for a few years, directly linked by pro rider Lucy Adams who is an ambassador for CHPO. Together we have produced a watch for Lucy – see it HERE and earlier this year Lovenskate had the honour of 'going pro' for CHPO with a line of sunglasses and mugs. This latest project is a limited run of 100 boards, a 7 colour screen print on Green, Orange, Yellow, Red Blue and Magenta, each comes with a free Beanie with each board. CHPO are amazing, heading environmental, social, and educational projects around the world, setting the bar way high for any company these days! (For the record, over 50 cups of tea were drunk in the making of these boards)."
Located @ Jims Cafe, 59 Chatsworth Rd, Lower Clapton, London E5 0LH, United Kingdom.
We keep the planet and your inbox safe from trash.
Sign up for our newsletter and get 15% off your first purchase!
You have no items in your cart