Free shipping over 499 SEK / 55 EUR / 79 USD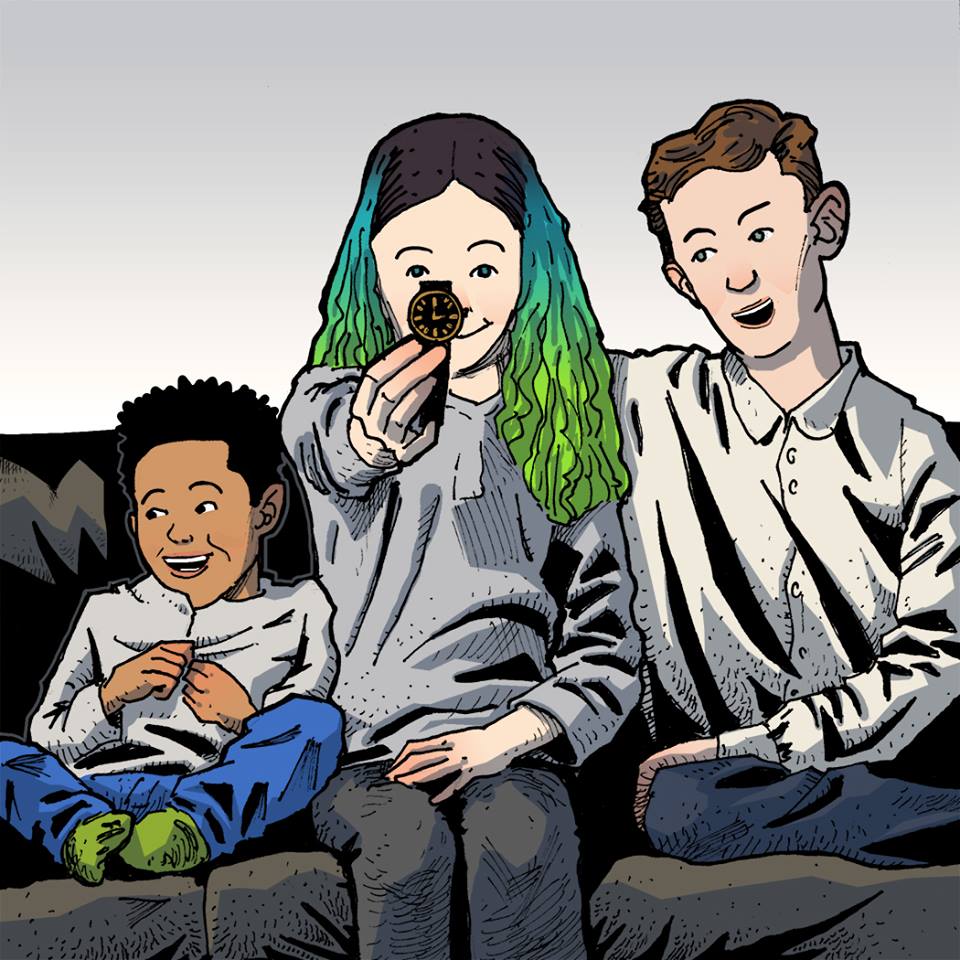 Interview: Ida Östensson
April 18, 2017
Ida Östensson
Founder of Make Equal
Location: Stockholm
What's going on in your life right now?
Right now I'm working a lot, we're starting a campaign later this spring against hatred online and I'm reading a lot about how hate, threat and harassment are expressed online. Since easter is coming up this weekend, I'm planning to go out to a summer house that I've rented together with my friends in Kungshatt. I've also started going to the gym to get strong! That's my new thing.
Where did you grow up, and where do you live now?
I grew up in Holmsund outside of Umeå and moved to Stockholm four years ago. I started Make Equal when I lived in Umeå, there was a lot of travelling since all my commissions, lectures and educations were spreaded all around Sweden. A lot of my clients were located in the southern parts of Sweden and I already had staff in Stockholm so I decided to move to Gothenburg. About the same time, I got bigger clients who were all based Stockholm, and I had to travel a lot between Gothenburg and Stockholm. I ended up only spending one day a week in Gothenburg and slept on my friends' couches every other night so I realized that I had to move to Stockholm. Even though I didn't really want to, when you come from Norrland (the northern half of Sweden) you usually have this resistance against Stockholm. But as soon as I moved here, I felt that it was truly fantastic and the resistance I felt was for nothing. You can have this "small city-life" in Stockholm as well and I have arranged my life so that I have walking distance between work and home and don't have to spend my days on the subway.   
What places would you recommend for someone visiting your hometown?
I was the project manager of our awesome skate park Sparken, it's the first thing you see driving from the south into Umeå. Right next to it you'll find the youth centre, Hamnmagasinet, I would recommend going there especially on sundays when there is this thing called "Folkkök" (the Peoples kitchen) where you can eat vegan food really cheap and just hang out with other people.  
What's your relationship to skateboarding?
I'm coming from the skateboarding culture and have been working a lot with equality in skateboarding for the past 10 years. I started skating pretty late, when I was 20, but haven't actually been skating for the past two years. I skated a lot then but didn't really enjoy it at the end, I'm waiting until I feel super excited about it before I get back on it.
When is your favourite time of the day and why?
Between 10 and 11 at night, people has gone to sleep and there is nothing that I have to do, I can watch some series with my love and just chill. I was totally in love with The Affair on Netflix but now I'm watching Paradise Hotel, Ex on the Beach and Married at first sight, that's my guilty pleasures! Nothing you would guess that an expert on equality would spend her nights with i guess, haha. I'm also excited about the new season of Skam (a Norwegian tv-series that all of Sweden is obsessing about) that just came out.
If you could re-live one moment in your life, which one would it be?
I'm trying to come up with a moment where I've could have changed something, a moment where you regret something you did or didn't do.. But I'm going for when we had a big manifestation in favour for a law on sexual consent three years ago in Stockholm. We had gathered all the political parties, musicians and activists, 5000 people that demanded this law. To many people this was a powerful day where the opinion turned politically. Since I was an organizer and hadn't slept for three days I was a mess, just running around and making sure that everything worked out, everyone knew what to do and where to be. I did not enjoy it at all but everyone says it was a fantastic day. I would like to be there when everything was done and just look at the manifestation without the adrenaline and stress in my body and just enjoy it.
How do you think people around you would describe you?
I think they would say that I'm engaged, solution-oriented and a bit hasty. In work situations I'm the one that always comes up with new ideas and changes as soon as we've settled something. You have to take everything I say with a grain of salt until I've thinked it through a few times. I think people see me as innovative, that's what I do best, coming up with new projects and campaigns. I've noticed that I don't see the world as everyone else, I think differently in a way.  
How and when did you come up with the idea of Make Equal?
It also came from the skate culture, when I started skating at 20, I was almost the only girl doing it. I was told that there weren't any other girls that wanted to do it. I started You Skate Girl in Umeå, it was an organization where we tried to find methods and solutions to make the skate scene more equal. It went really fast, we went from zero girls to hundreds in no time at all, and then I started No Limit Skate, an organization that worked nationally with these issues. This thing where people say that a certain group of people doesn't want to do something, that is not true, there is always people that wants to do it. But if that group of people is not represented, there is something that we are doing wrong and there is hidden obstacles that we can't see. I have worked in tons of places that claims that they're working with equality in the workplace, but there were never any practical methods which I demanded and had worked with in both You Skate Girl and No Limit Skate. I asked them and myself, what happens if we put other people in our posters and in our marketing? What happens if we use other employees as role models? What happens if we collaborate with new business partners? I wanted to start something that focuses and talks about how to really work with equality, and I did in 2010. The organization was then called Crossing Boarders and later changed the name into Make Equal. We have three core values in our work towards equality, the first one is to be solution-oriented. The second word is including, we aim to use a language that everyone understands and to not complicate things. The third word is challenging, we want to shift perspectives and not repeat clichés, we want to find new ways, methods and perspectives to create an equal society.
What's the next step for Make Equal?
We're actually taking a lot of steps at the same time. The campaign I mentioned earlier against hatred online, that's called Skärpning (Get your act together), is starting in May. We're also focusing on the macho culture where we try to engage men through our concept 'Det börjar med mig' (It starts with me). It's an educational concept where we work with young guys and men to engage them in equality work and to talk about sex and consent. #Killmiddag (Dinner for guys), is another initiative that I started last summer when there was a lot of cases of abuse in festivals all over Sweden, a lot of people were frustrated and did not know what to do. It's a concept where guys can invite their guy friends to dinner and discuss different topics like friendship, sex, love, violence and porn. Men is behind 87% of all cases of assault and 97% of all cases of sexual assault and we need to start working with this destructive culture connected to masculinity. Talking about it is a good way to start and we've listed a lot of topics and questions to discuss at killmiddag.se. We're working with a lot of projects simultaneously and all of them have the same goal, to reach an equal world.
What was it that made you want to do a collaboration with CHPO?
I've followed CHPO for a long time and I really like the idea about nice gear that doesn't cost you a fortune. When I was younger CHPO wasn't expensive but it was still something cool and street. I saw CHPO's ad and thought that it was so great with a brand that is clear on where they stand and doesn't contemplates on sexism and racism. And then I ran into Viktor, CEO of CHPO, and we started talking about doing a collaboration. It felt natural to make a watch, since this is about time. Nothing just happens. It is us, the people, who influence the future.
Tell me about the design, where you involved in it?
We actually got to decide all by ourselves what it was going to look like. We had a lot of ideas but decided to just go for an engraving on the back to show the connection with our organization. The most important part is that we reach people that didn't knew about us before and people that are not yet engaged in work towards equality. We want to reach more people and therefore we designed the best looking watch we could come up with. A dark denim wristband and an all black dial with rose gold details.
What has the Make Equal foundation gained from the collaboration?
We have reached new groups of people and we've worked with different ambassadors that have pushed the watch in social media. Nilla Fischer, Cassandra Klatzkow, Linnéa Claesson, Adam Tensta, Azita Shariati, Pa Modou Badjie, Katarina Wennstam, William Spetz and Cleo to name a few. The watch means more to us than being just a product, we're using a physical object to get our message out there. CHPO also has channels that reaches groups we don't, in our event for the watch release there was more guys than girls which is very unusual for us. There are mostly girls that are engaging in our work towards equality. I really like the idea of combining two companies or organizations to reach bigger or different target groups. We also made a campaign called Time to Make Equal where we compiled a lot of advice on how to engage and what you can do to work for an equal society.
What are your plans for the future?
I will keep on putting my energy into Make Equal, my main focus except for lecturing that I always do, is the campaign against hatred online. I have been exposed to hate and threats online myself and it feels good doing something and organize a counter force against this phenomenon. And also work for an including online climate, because Internet is real, you can't separate what happens online or offline, it's the same and everything is real. I strongly believe that both parts should be taken as seriously in the eyes of the law and also that everyone should be able to stand for what they write to others online. Everything you do online is happening in the real world even though some people think that they are hidden or protected behind a screen. I'm really excited to work with this since we still have a long way to go in this area.  
If anyone wants to support Make Equal, what should they do?
Follow us on social media and like and share what we do. If you know a company or  organization that needs learn how to work for an equal workplace, you could always tell them about us and our lectures and educations. If you would like to support us economically you can do it here. And buy the watch of course!  
We keep the planet and your inbox safe from trash.
Sign up for our newsletter and get 15% off your first purchase!
You have no items in your cart