Free shipping over 499 SEK / 55 EUR / 79 USD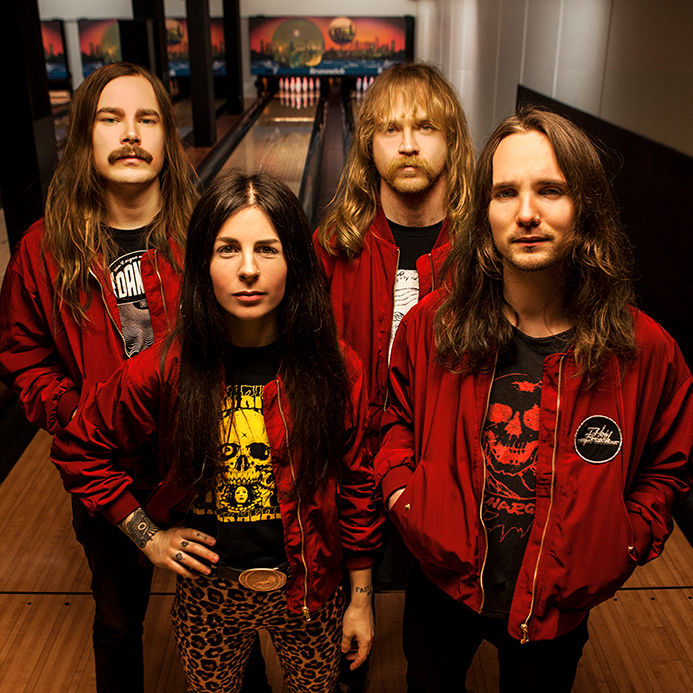 Interview with Swedish rock band Hot Breath
In mid February (when Corona was a Mexican beer with slice of lime for most of us) we sat down with Hot Breath. According to us one of the greatest rock bands Sweden and the world has to offer right now. They hail from all across our sausage shaped country, but are located in our second biggest city Gothenburg. Over wine, beer and cider we received greatness from Jennifer Israelsson (song and guitar), Jimmy Karlsson (drums), Karl Edfeldt (guitar) and Anton Frick Kallmin (bass)!
Tell us about the name!
It took us a long time to come up with a name. We had between 25 and 45 different options. Our drummer Jimmy came to each rehearsal with 10 new suggestions. He ended up in some kind of psychosis and sat at work scrolling through dictionaries of random words. It went so far that we put a ban on talking about names when we were rehearsing. And it wasn't that long ago we came up with Hot Breath. It came during the recording process when we felt that we really were a band. In the beginning not everyone were convinced, but now it feels good. You get used to everything. Like a pair of new underwear that are dirty from the beginning, but turns sexy with time. The name does mean something very disgusting, but can also be sexy. But it's not super serious. It sounds a bit rock n' roll as well.
You were all in other bands prior to Hot Breath, and some of you still are, so why did you decide to start a new?
The funny thing is that I (Jimmy) had discussions with everyone in this band individually about doing something. And at the time Jennifer and I played in the same band, and we really wanted to continue playing together. We all just want to play as much music as possible, and in this band we don't play the same music as we did before. When you play with new people you get new angles on everything really. After all, the most fun thing is to get up on stage and play. Rehearsing is not so fun, but it is a necessary evil. And then it's fun to work with the other stuff that comes with being in band. Like merch and where we want to play etc. It is a full-time job outside our real full-time jobs. But without pay. What we earn goes straight back into the band to buy better instruments and be able to finance a better production for the next album. And being on tour costs money. So everything we make goes back in to the band. Then we all know what it's like to play in front of a lot of people, which for us are about 500-700 in the audience. Getting to that level is a goal in itself. If we ever can make money then that is a welcomed bonus. But we live for that hour on stage.
Do you turn in to bigger pricks as your crowd gets bigger?
You probably won't if you have taken the hard road. If you have played in front of 40 drunks eight shows out of ten in six or seven years, and then succeed and get to play in front of 500 people it's difficult not to be grateful. But if you have gone from nothing to play in front of a big crowd, then you do not know what to appreciate since you haven't had to work for it. Of course you get an ego boost. But that is more for you!
Where do you find your inspiration?
We all come from pretty similar music genres, and are united by rock. And when you play the type of rock we do it quite easily sounds like Hellacopters for example. But we think the next album will sound a bit different. It is a bit of a cliché but we don't want to get stuck. In this band we write a lot together and take a lot of inspiration from outside music. Like movies and reality shows. Suddenly a quote you like appears and then you start from there. And then personal experiences as well.
In another interview you say that the lyrics are important to you. In your song "Still Not Dead" you sing "I'm still dancing without my hips". What is that all about?
It was Jimmy who wrote that line. We want all texts to be interpretable. When I (Jimmy) gave that line to Jennifer I was very sore in the joints, arms and muscles, and it was a frustration not being able to do what I wanted to do. Then when Jennifer took it for her it was about a person who was paralyzed. It was a cool experience to build that song. In previous bands I (Jimmy) never bothered about text, but since we are all involved in the creation now, we think more about what we say. We want the song melody to have as much space as fat riffs. And I think on our next album this will come out even more, since Jennifer is really good at writing.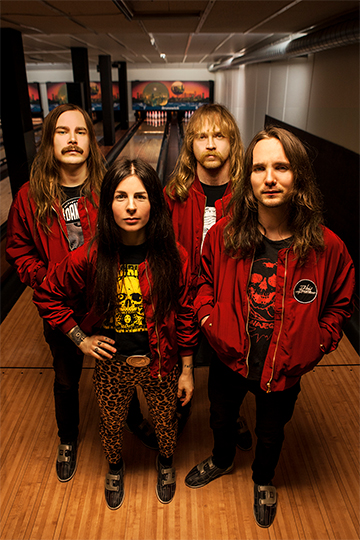 You quite recently released your first EP. Did you have a clear idea what kind of album you were going to make when you went in to the studio?
Not really. We wrote the songs while recording and eventually we realized that we had an EP. But we did plan to make this record. We had just signed with The Sign Records, so we wanted to get a record out quite fast. We wanted to create a record that could work both at Way Out West (one of Sweden's biggest music festivals) as well as Muskelrock (a small metal festival). We wanted to play rock with pop elements. We left it very open to let things happen during the recording. We think we are in a good place at the moment since we haven't released our first full-length album yet, but we still have a good foundation to stand on.
Are you affected by the fact that some tracks work better then others when you write new?
It's a mix. We do what we want to do and if someone likes it then that is great! But of course in the back of our minds we are thinking of what has worked in the past and that maybe it should be something like it on the next record. Then what works live also affects us, since we play to play live rather then getting a lot of plays on Spotify. It is more fun to have tracks that works live! With that said we don't want to create the same track 1000 times just because it works live.
How's the feedback been so far?
The feedback has been good so far! Both on us as a group as well as the music we have released. First of all from friends who also play in bands. But then it is obviously hard to know since it's often the ones who have something positive to say that come up to you. But then there has been some who we don't know and doesn't have to say anything, that has still contacted us to say that they liked what we do, and that's great!
What can you expect when attending a Hot Breath concert?
Happy people on stage. We believe that you as an audience will see that we are having a great time! Then we think you will see how much we want this. The goal is to be able to turn someone's really bad night into something fantastic, and a better day after. Or that you will ask someone else to buy beer for you because you do not want to leave!
Sweden has been exporting a good amount of really great bands over the past couple decades. Refused, The Hellacopters, ABBA, to name a few, but who are some of the artists that the rest of the world might not be familiar with?
Hypnos (Anton's other band) are good! Vampyer is a really good death metal band from Gotheburg. Also Bombus and Hollow Ship from Gothenburg are good. Then we all really like Viagra Boys!
How do you feel about supporting other bands? And what other bands you would like to support?
We really like supporting other bands! The expectations are low, so hopefully you can surprise the audience whit "Shit, that was really good!" In that way it's great to support other bands. You are an underdog with the goal is to convince the audience to come and see us again. It's hard, but we really enjoy it!
Realistically we would say Viagra Boys. That would be fun after the show as well! D-A-D would be super fun as well! Full on Danish rock! Everyone can enjoy them, sexy rock music. And then KISS. They are somewhat of our house gods. That would be an amazing experience! And then also The Hives. They are the best live act in the world. We wouldn't win that one, but we would without a doubt be a better live band after that tour. The Ark would be pretty fun as well since they are very different from us.
Gothenburg is Sweden's second biggest city and chief seaport. A city known for its sense of humour, impressive coastline and seafood. What would you recommend if anyone reading this would visit Gotherburg?
The pub Silverkällan in Majorna. It's the best pub in the world. It's amazing! Just search for them on Google or TripAdvisor and read the reviews. The people you will meet there are great! So that will be the pre-party. And then you should make sure we are playing at Pustervik (infamous concert venue) in Gotherburg while you are here. So start at Silverkällan. Mabye stay there a bit too long since it's so good. And then you walk down and have falafel on Stigbergstorget before you walk down to Andra Långgatan. There you should have at least one beer at every bar while walking down towards Pustervik. Except 9:ans Ölhall. Their beer is too expensive! If you do this we will get you on the list for our show! That would be the best experience this city has to offer!
You will find Hot Breath EP right here and their great looking merch and records right here.
We keep the planet and your inbox safe from trash.
Sign up for our newsletter!
Welcome to our new website!
This site is brand new and we hope you will like it! If you are experiencing any issues, please let us know at customerservice@chpobrand.com

Thank you!
You have no items in your cart